Electric tapping machine(1)
MRCM share / 2022-01-12 / Hits(1390)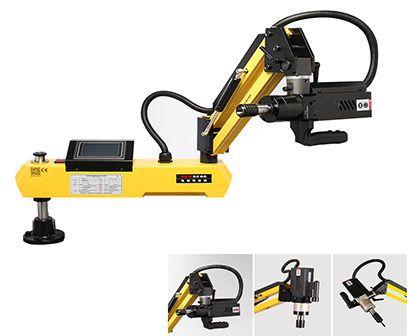 Electric tapping machine
Electric tapping machine is a machine tool that can perform internal thread tapping on the forward and reverse tightening connection threads, transmission connection threads and pipe threads of coarse teeth, fine teeth and non-standard pitches of various small and large steel parts. , This type of machine tool belongs to the category of flexible tapping, and its distinctive feature is that it can be operated with a foldable arm, which is suitable for thread tapping requirements below M42.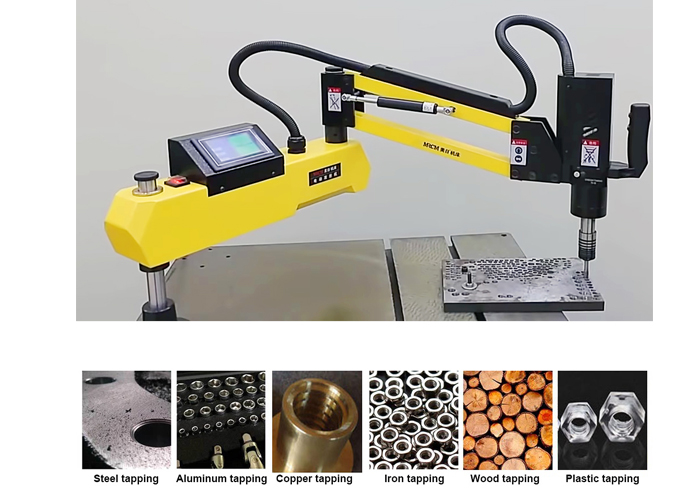 The transmission mechanism is provided with a quick reversing device, which is used for electric tools for processing internal threads.
The electric tapping machine can complete ultra-deep hole tapping more than 5 times the diameter of the tap at one time, and can tap M42 threaded holes at most, which is efficient and labor-saving.
The working radius of the electric tapping machine is up to 2000mm, which can meet most of the thread processing requirements.
The electric tapping machine has an advanced flexible tapping system, which makes blind hole tapping not easy to damage the tap and ensures the processing of high-quality threaded holes.
The intelligent protection system of the tapping process of the electric tapping machine can monitor and protect the equipment in real time, reminding the user to optimize and improve the tapping process.

The advantage of the intelligent tapping machine
The electric tapping machine is equipped with a depth control system, tapping → to the preset depth → stop → reverse rotation, which can easily solve the problems of blind hole tapping and depth control.
(1) Stable torque and long life
(2) The repeated positioning is rapid, the cutting speed is fast, and the production efficiency is high;
(3) The safety torque collet ensures less tap damage; through-hole and blind-hole taps are continuous, and the tapping accuracy is high;
(4) The scope of work activities is large, and the heavier workpieces do not need to be moved;
(5) Simple operation, light weight, high efficiency and low work intensity, suitable for various light and heavy operations.
(6) Universal positioning to achieve horizontal tapping.
(7) With automatic lubrication function, it can realize automatic ejection of tapping oil, automatic lubrication of taps, and realize thread insertion, which is more efficient.
(8) The verticality error of the fuselage is less than 0.05mm.

Zhejiang Meiri Intelligent Equipment Co., Ltd. is a service provider specializing in the development and production of small special tool grinders and precision machines. The company's main products: CNC tool grinder, best drill bit sharpeners for sale, end mill grinder bit, milling cutter grinder, thread tapping grinder, turning tool grinder, saw blade grinder, universal knife grinder, universal tool grinder, chamfering machine, pneumatic tapping machine , Electric tapping machine, zero point positioning system, precision vise, rotary table, EDM machine and other precision machinery series. The products have applied for 70 patents and 3 invention patents, with an annual output of more than 20,000 grinding machines, accounting for more than 60% of the domestic market and about 50% of the global market, and export products are sold to developed industries such as Japan and Germany. nation.