what is the best drill bit sharpener on the market
MRCM share / 2022-01-15 / Hits(1603)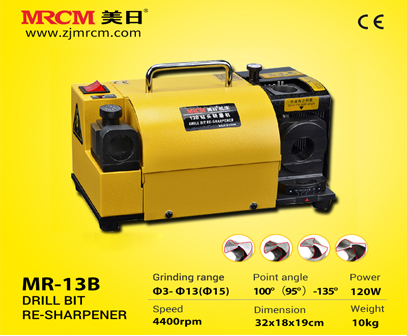 Which brand of industrial drill sharpener is good? Detailed introduction
The industrial professional drill bit sharpener is an indispensable small power grinder tool in the industry. The main function of the industrial drill sharpener is to grind heterosexual drills, ordinary twist drills, Ni Zhifu drills, thin plate drills, step drills, etc. And the industrial drill sharpener can achieve a good repair of the rake angle, top angle, side edge, positive rake angle, etc. of the drill. The main principle of the drill bit grinder is to use the drill bit with a non-sharp wear notch to meet the needs of refurbishment after being repaired by processing and grinding. When grinding the drill bit grinder, according to the size and model of the drill bit, adjust the size of the drill bit machine that repairs the mold so that it can be accurately ground and repaired.

Which brand of industrial drill sharpener is good
1. BOSCH Bosch
Bosch Power Tools (China) Co., Ltd., one of the top ten brands of power tools, was founded in Germany in 1886, a world-renowned brand, an influential brand in the industry, the world's leading manufacturer of power tools and accessories, and a brand of the world's top 500 companies.
2. King Fang
China Fangda Holdings Co., Ltd., top ten brands of drill bits, top ten brands of twist drills, well-known brands in the domestic hardware tools industry, famous trademarks in Zhejiang Province, patent demonstration enterprises in Zhejiang Province, and leading enterprises in the hardware tools industry in Yueqing.
3. HILTI
Hilti (China) Trading Co., Ltd., HILTI, one of the top ten brands of electric hammer and drill, was founded in Shaan, Europe in 1941, and is a high-quality service solution provider for the global construction industry. world leadership.
4. Dongzheng
Zhejiang Dongya Tools Co., Ltd. is located in the economic development zone of Yueqing City, a beautiful new city on the coast of the East China Sea. It is a professional company that develops, produces and sells pneumatic tools, construction tools and power tool accessories. The company mainly produces various pneumatic tools, pneumatic nail guns, electric hammer drills, cement drills and woodworking milling cutters. The company covers an area of ​​45,000 square meters, with a construction area of ​​25,000 square meters. The company has more than 500 employees, including 60 engineering technicians and management personnel including expert engineers hired from abroad.
5. Zhengbang
Zhejiang Zhengbang Tools Co., Ltd. is one of the top ten brands of drill bits, a well-known (famous) twist drill brand, and various series of twist drills and taps enjoy a high reputation in the country.
6. Dulwich NAKE
Zhejiang Dewei Cemented Carbide Manufacturing Co., Ltd. is a well-known professional production enterprise specializing in the production of geological and mineral cemented carbide and electric hammer drill bits. It is located in the "China National Drill Bit (Construction) Production Base" - Yueqing, Zhejiang Province City Furong Industrial Zone. The cemented carbide, electric hammer drill, impact drill, etc. produced are sold well all over the country and exported to foreign markets such as Southeast Asia, North America and Europe.
In summary, the drill bit grinder is a portable drill bit grinder (ie, a fool drill bit grinder). In addition, there are the following types of drill bit grinders: thin plate drill bit grinder, step drill bit grinder, compound high speed steel drill sharpener, universal drill sharpeners, woodworking industrial drill sharpeners, group industrial drill sharpeners, left industrial drill sharpeners. Different types of industrial drill sharpeners play different roles. Generally, the appropriate industrial drill sharpener is selected according to actual needs. However, the accuracy and principle of use of each industrial drill sharpener are the same, but everyone must pay attention to safety when using the industrial drill sharpener.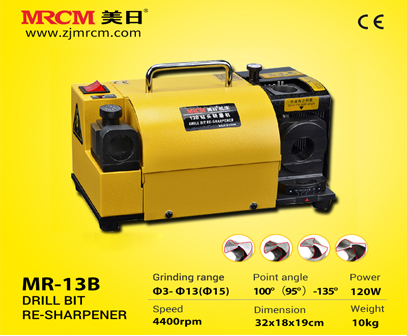 Zhejiang Meiri Intelligent Equipment Co., Ltd. is a service provider specializing in the development and production of small special tool grinders and precision machines. The company's main products: CNC tool grinder, best drill bit sharpeners for sale, end mill grinder bit, milling cutter grinder, thread tapping grinder, turning tool grinder, saw blade grinder, universal knife grinder, universal tool grinder, chamfering machine, pneumatic tapping machine , Electric tapping machine, zero point positioning system, precision vise, rotary table, EDM machine and other precision machinery series. The products have applied for 70 patents and 3 invention patents, with an annual output of more than 20,000 grinding machines, accounting for more than 60% of the domestic market and about 50% of the global market, and export products are sold to developed industries such as Japan and Germany.