Benchtop Grinding Wheel Chamfering Machine Product Introduction
MRCM share / 2022-01-26 / Hits(1311)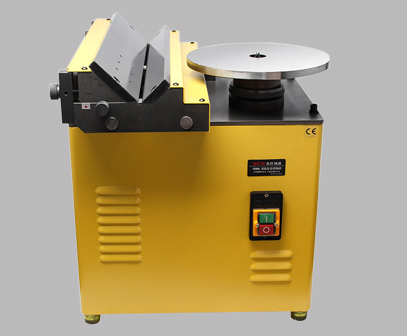 Benchtop Grinding Wheel Chamfering Machine Product Introduction
R900 desktop grinding wheel chamfering machine and R900 desktop side milling cutter type chamfering machine are small workpieces suitable for batch processing by desktop chamfering machines, and are widely used in steel, steel structure, mold, mold base, metal processing, hardware parts manufacturing and other industries. A good helper for the mold and machinery manufacturing industries.
Difference between R900 grinding wheel chamfering machine and R900 milling cutter chamfering machine
R900 desktop grinding wheel chamfering machine adopts grinding wheel cutting, especially suitable for heat-treated workpieces.
R900 desktop side milling cutter type chamfering machine adopts cutter head cutting, which can only be used for workpieces without heat treatment, and cutting is easier.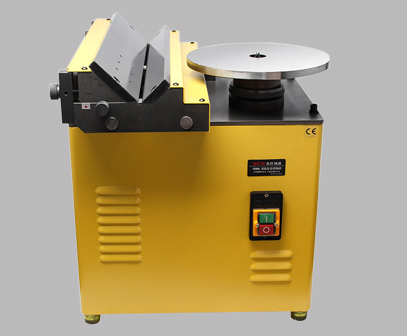 Desktop Grinding Wheel Chamfering Machine Technical Features
1. The chamfered surface is fine and free of burrs, like a cross-grinding surface.
2. Suitable for chamfering of various small molds, small molds and mechanical parts.
3. During operation, lean the workpiece against the slide rail to cut from left to right.
4. The slide rail is made of high-quality die steel after heat treatment, which is durable.
5. Simple operation, regular chamfering, convenient adjustment, economical and reliable
Note on the operation of the chamfering machine
1. Staff must wear gloves during chamfering operations.
2. Before use, the switch must be turned on first, after the cutter head rotates, pay attention to the rotation direction of the cutter head, and then push the processing object forward for cutting from the beginning.
3. Check whether the two screws of the spindle are tightened, and whether the press-fitting screw of the blade is loose.
4. When replacing the blade, remove the guide plate. After installing the blade, check whether the installation is firm before operating.

Zhejiang Meiri Intelligent Equipment Co., Ltd. is a service provider specializing in the development and production of small special tool grinders and precision machines. The company's main products: CNC tool grinder, drill grinder, milling cutter grinder, thread tapping grinder, turning tool grinder, saw blade grinder, universal knife grinder, universal tool grinder, chamfering machine, pneumatic tapping machine , Electric tapping machine, zero point positioning system, precision vise, rotary table, EDM machine and other precision machinery series. The products have applied for 70 patents and 3 invention patents, with an annual output of more than 20,000 grinding machines, accounting for more than 60% of the domestic market and about 50% of the global market, and MAIN export products are sold to developed industries such as Japan and Germany and so on.