The magnetic seat drill(1)
MRCM share / 2022-02-12 / Hits(1489)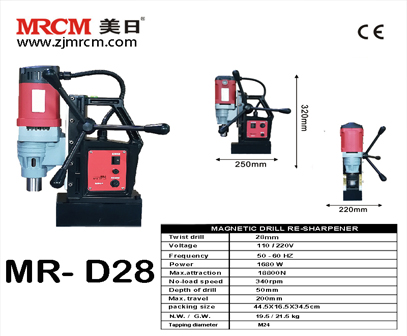 The magnetic seat drill
The magnetic seat drill is a kind of magnetic seat coil at the bottom of the magnetic seat drill that cuts the magnetic field after passing the current to generate a strong magnetic force, which is directly adsorbed on the surface of the workpiece for drilling operations. With the advantages of flexibility, light weight, and safe use, it is mainly used in working environments where drilling machines are not suitable for cutting, such as high-altitude operations, steel structures, ships, and machinery companies.
Magnetic drill is a kind of drilling rig for larger work and high-altitude operation. It belongs to the power tool in hardware. It can also be called "small bench drill" in the machine tool, also called magnetic drill, iron-absorbing drill, steel plate drill, coring drill. , Hole drill, installed in the frame without electromagnetic chuck, rotary tissue feeding device, when in use, the magnetic seat after electrification is directly adsorbed on the horizontal plane of the workpiece (can be inverted) to drill, the magnetic seat drill is more than the general electric drill, It can reduce working pressure, save labor and improve drilling accuracy.
The composition of the magnetic seat drill is composed of rotor, stator, frame, magnetic seat, transmission shaft, horse control board, printing plate, guide rail, etc. It is mainly used for steel, iron, aluminum plate, stainless steel, I-beam, H Drilling holes on profile steel, angle steel and other materials, suitable for large workpieces and high-altitude operations.
The drill bit of the magnetic seat drill is replaced. At present, there are some magnetic seat drills with keyless quick-change devices on the market. From the heart, this device is not good. Once the drill bit is embroidered in it, it is extremely difficult to obtain the core. The method is to undergo heat treatment to make the quick-change device thermally expand and contract, and the speed-mounted drill bit is taken out. The drill bit is taken out, but the entire quick-change device is also scrapped. The main shaft of the quick-change device of many magnetic drills is integrated with the gearbox. Yes, once it is scrapped, the maintenance cost is expensive. It is recommended that you buy two machines that lock the drill bit on the flat surface, and there is more room for choosing the drill bit in the future. No, there is no way, this kind of drill can only be found in their house, once it is set in, it cannot come out.