TAIWAN GIN CHAN MACHINERY General Manager Visited Meiri Machine Tool
Customer testimony / 2015-06-25 / Hits(988)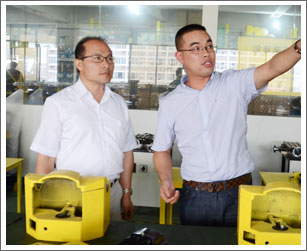 Taizhou Meiri Machine Tool CO., LTD. which started from the production and operation of precision machinery equipment, rose rapidly with the development concept of focus, lean and innovation. After 9 years of efforts and hardships, now has jumped into the leading ranks of the knife grinder industry. The next target is more than 90 percent of the market share for similar products.

On August 20, Zhang pingnan, the general manager of TAIWAN GIN CHAN MACHINERY CO., LTD, and several people visited our company. Our general manager Yu rongjiang met the visitors. The visiting guests firstly visited our company's corporate culture wall, and had a deep understanding of our company's production process model and the company's operation. During the visit, the visiting guests expressed their strong desire to cooperate on some projects.

In the morning of 21st, the two sides held a exchange meeting. At the meeting, general manager Yu rongjiang extended a warm welcome to the general manager of TAIWAN GIN CHAN MACHINERY CO., LTD. Then introduced the general situation of our company and the specific situation of production and operation. TAIWAN GIN CHAN MACHINERY CO., LTD. general manager of Zhang Pingnan thanked the warm reception, and said the main purpose of this visit is to learn good operation management experience, enhance friendship, mutual promoting development. We will explore new ways of cooperation, complement each other's strengths, share resources and strive to achieve a win-win situation. Throughout the talks, the atmosphere was friendly and harmonious, and the exchanges were frank and warm.

The general manager of TAIWAN GIN CHAN MACHINERY CO., LTD. Zhang pingnan, said that the general manager of Meiri Yu rongjiang is a low-key man, but the Meiri Machine Tool he leads are increasingly showing the momentum of industry leaders.



"MRCM do NOT have any MOQ requirement. We can send a sample model to you for quality check and test within 72hours. It's ALL FREE ! "