India BMT Customers Come to Visit Meiri Machine Tool
Customer testimony / 2014-12-23 / Hits(1077)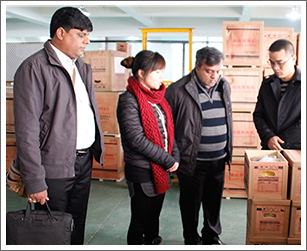 Taizhou Meiri Machine Tool CO., LTD. always adhere to the most sincere service attitude, the most reliable product quality, the most reasonable price as the goal for a long time, earnestly focus on each link such as products production, sales, service and so on. The company has a strong technical advantage, has a number of personnel who have been engaged in research and development, production for many years. With the joint efforts of all employees, our company has formed a good reputation and market influence in foreign markets
On October 30, 2014, two clients from India came to our company for a field visit. The general manager, sales director and related persons attended the meeting. At the meeting the two sides made a brief introduction on the basic situation.Communicated and negotiated with the production capacity, production equipment, management and further cooperation of various types of grinding machines and other products and equipment of the company. The customer has fully affirmed the company's production capacity, equipment level, quality management system and other aspects, and also put forward many constructive suggestions.
The meeting laid a solid foundation for the two sides to deepen cooperation in the future. Our company adhere to the leading technology strategy, aimed at "to become the world first-class service provider of tool grinder and precision machine tools", the company unswervingly walked on the road of innovation, through years of exploration practice, gradually set up a research and development system which make the technology center as the main body, built a brings together with a large number of domestic and foreign mill first-class technical talents in the field of research and development team. Service in the company's research and development, sales, after - sales line, to provide the best solution for customers.
We always follow the orientation of our products to develop the market on the basis of standards and quality. With rich production experience to win the market. With the development of new technology, the company will develop new functional products to meet the more and more needs from customers. Seize the opportunity to explore foreign markets as the global market gradually recovers. We continue to improve and develop, to provide customers with better quality products and services. We believe that the future of Meiri will be better!-- Meiri (everyday) moves up, Meiri (everyday) is more wonderful.


"MRCM do NOT have any MOQ requirement. We can send a sample model to you for quality check and test within 72hours. It's ALL FREE ! "