Yuhai Electromechanical General Manager to lead the team to visit the United States and Japan study
Customer testimony / 2014-12-23 / Hits(1019)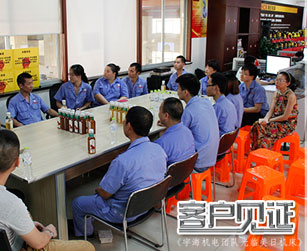 Zhejiang province Wenling Yuhai electromechanical Co., Ltd., founded in 1995, in the production of the stepper motor, servo motor and drive power R & D and production units, general manager to lead their elite team Japan machine learning field observation,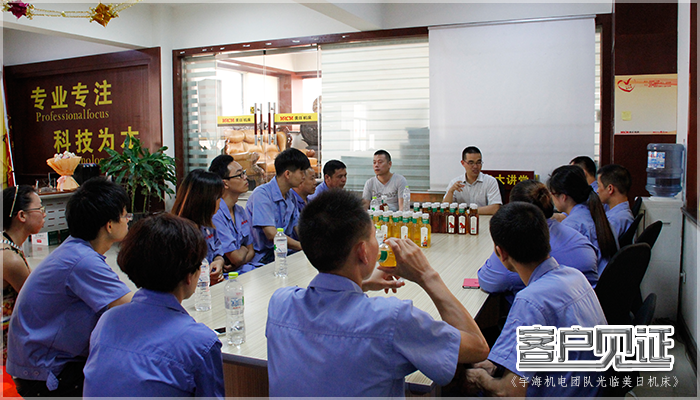 《Yuhai electromechanical team》
Japan Machine Tool General Manager Yu Rongjiang personally reception and interpretation! General manager Yu Rongjiang introduced himself to learn is major in mechanical design, before the establishment of the US Japan machine tool, has been engaged in the technology and production management work in a factory, does is 12 years. In 2006, he participated in the exhibition, Shanghai machine tool was full of vigor and vitality, the rapid development of machine tool industry touched his dream, whether manufacturing is a development to what extent, tool grinding is essential. Yu always saw tool grinder of future opportunities, the established Japan machine tool. From the technical research and development to sales, he personally. After seven years, the United States and Japan machine tool has R & D and production of drill grinding machine, cutter grinding machine, wire tapping grinding machine, chamfering machine, tool grinding machine, universal cutter grinder, universal tool grinding machine sixteen series more than 50 varieties, and occupy an important place in the industry.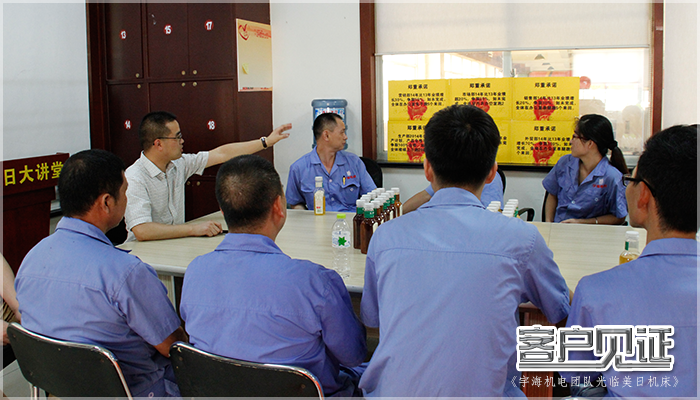 A total of Yu Yu Hai electromechanical team a line of welcome, and introduced the development of the company to Yuhai electromechanical team, and mainly from in recent years our company mainly engaged in the completion of the indicators, market development, key project implementation, management and non entity operating the project work and other aspects of the explanation. Yu general during the presentation introduced in recent years the company made in management aspects of the work, the approach taken, the results achieved, also talked about the difficulties and problems. Listen to Yu Hai electromechanical team focused on nearly 2 hours of the report, does not explain the details of the question. Finally, Yuhai electromechanical team about three opinions on the investigation in our company: first of all that this 2 hours of discussion deep feelings, the United States and Japan machine tool development is very good, to have a new understanding of the United States and Japan machine tool. The second is inspired by American and Japanese machine tool, a good momentum of development, prospect is good, the policy is right, but also timely. At present, the United States and Japan machine tool has further bigger and stronger conditions, for future development has laid a good foundation. These have been all peer recognition, coupled with their own efforts, very important for the development of American and Japanese machine stage. I think the evaluation of enterprise has four main points, strategy, performance, risk management and occupation level of income, these machines are talked about japan. Finally Yuhai electromechanical team talk of non operating entity must adhere to, the US Japan machine is using a non entity management platform has been developed. Enthusiasm, to mobilize the strategic partners don't weaken, determine the project, joint development. By letter is to think of a way to solve the problem.